Residency of Zemanel at LFRD
"Born in 1969 in the north of Portugal inside a taxi. My birth is already a small story. I like small stories, those that tickle and awaken the imagination in a few pages.
My parents had little interest in literature, and even less in other artistic disciplines.
My home is a cultural desert but school is not far away. It was there that my appetite for the "artistic" grew and never left me.
Writing, theatre, plastic arts, all experiences are good.
The theatre became the centre of my life, acting as a crossroads. Writing quickly finds its place. But it was the birth of my children that pushed me to propose my first texts to a publishing house.
In 2005, the publisher Lito trusted me with a first text: Le bal des grands méchants. This was followed by other titles and then other publishers such as Flammarion (Dans le ventre du moustique and La sieste de Moussa).
It is within this publishing house and in the "Père Castor" collection that I saw the majority of my albums being born.
A few stories in Press with Bayard and a return to the theatre with Harmattan.
My ideas are born from meetings, workshops, things in motion… and children are the origin and destination of most of my texts.
First week in Kindergarten
First week with the artist Zemanel, from 23 to 27 January 2023.
The kindergarten pupils were able to attend shows inspired by his children's books and participate in creative workshops.
The whole kindergarten team would like to thank Zemanel for this week full of joy, laughter and discovery!
Second week: elementary school, it's your turn!
The author Zemanel shared his second week of residency with the elementary school.
Discover the whole week in pictures thanks to the interactive book prepared by Laurence below.
Thanks to Laurence BOICHOT and Virginie SOUBELET, primary school teachers for the coordination of the event.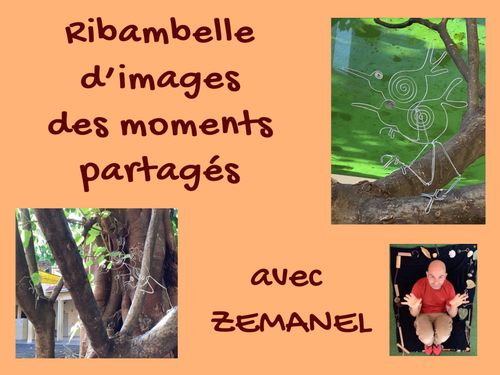 Exhibition of artworks created during the week